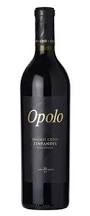 Our Summit Creek line is dedicated to flagship varieties made in an approachable style, as exemplified by the 2020 Cabernet Sauvignon. Opolo's passion for Cabernet Sauvignon is reflected in the Paso Robles region's rise to prominence as an elite area for the variety.
Vineyards The 2020 Cabernet Sauvignon comes from select vineyards in the northern area of Paso Robles, where a warm growing season is moderated by reliable evening cooling that flows inland from the nearby coastline. These conditions allow the fruit to develop rich, ripe flavors with plump tannins and fine structure—the hallmarks of Paso Robles Cabernet Sauvignon.
Winemaking After harvesting, the fruit was cold soaked and fermented in stainless steel tanks, then matured with 25 percent new oak for 16 months. Winemakers James Schreiner and Chris Rougeot then blended the wine with an eye toward the established Summit Creek style of fruit-forward approachability. The final blend incorporates a small lot of Merlot to layer in plush textures, as well as hints of Malbec and Petit Verdot to fill out the mid palate.
Winemakers' Tasting Notes The 2020 Summit Creek Cabernet Sauvignon opens with warm aromas of cherry, plum, raspberry, vanilla and toasted oak. A plush, mouthfilling texture unfolds with flavors of black cherry, blueberry, cassis and mocha. Notes of cedar and tobacco are joined by buoyant acidity on a smooth, supple finish. The result is an immensely accessible Cabernet Sauvignon that offers unbeatable value.

Varietal Composition: Cabernet Sauvignon 87% Merlot 9% Malbec 2% Petit Verdot 2%
Appellation Paso Robles
Aging 16 Months (25% new oak)
Analysis TA: .64 pH: 3.85
Alc. by Volume: 14.8%
Want to save even more?
Become a TWA Online member and save even more off our already low prices.
Learn more!
Reviews for SINGLE BOTTLE - 2017 Opolo Cabernet Paso Robles
Sarah H.

Verified buyer
United States of America
drinks well with others. or alone.
everyday red who can hang solo with netflix or accompany food and friends. lately, i've been binging this and Friday Night Lights, fwiw.