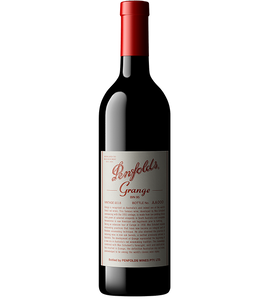 Tom's Notes:
If I have not already shown you my appreciation of this wine by showing you the unwrapped bottle in the cellar, that probably just means you have not been in recently.  
This is a THE Iconic wine of Australia.  Yes, there are other phenomenal wines from Australia, but this sits at the top of wines from Australia and sits at the top of global wines along with a few other wines, that over time I will bring in.  

This is a wine to put in your cellar and learn the art of patience with.  It is drinking beautifully now, I tasted it on 10/7/22 with Brandon and Peter Gago the Chief Winemaker for Penfolds but in particular Grange, but it will be even better in 20 to 30 years.  

You will note on the Wine Spectator notes that they say 426 cases were imported.  This is technically true, but for Penfolds Grange a case is only 3 bottles.  Slightly more than 7,000 bottles were produced this vintage.
Spend some time and watch the videos that I linked for this wine.  They will give you some idea of the appreciation I have for everything about Grange
Winery Notes
THE PENFOLDS COLLECTION
2018 PENFOLDS GRANGE
The most powerful expression of Penfolds multi-vineyard, multi-district blending philosophy, Grange is arguably Australia's most celebrated wine and is officially listed as a Heritage Icon of South Australia. Crafted utilising fully ripe, intensely flavoured and structured shiraz grapes, the result is a unique Australian style that is now recognised as one of the most consistent of the world's great wines. With an unbroken line of vintages from the experimental 1951, Grange clearly demonstrates the synergy between shiraz and the soils and climates of South Australia.
GRAPE VARIETY - Shiraz, Cabernet Sauvignon
VINEYARD REGION - Barossa Valley, McLaren Vale, Clare Valley
WINE ANALYSIS - Alc/Vol: 14.5%, Acidity: 7.0 g/L, pH: 3.56
MATURATION - 18 months in American oak hogsheads (100% new)
VINTAGE CONDITIONS
Near long-term winter rainfall ensured the vines reached spring with full soil moisture profiles. Elevated spring temperatures, driven by higher than usual lows, indicated an early start to the growing season. Warm and sunny weather prevailed throughout most of spring, providing optimal conditions for flowering and fruit-set. The Barossa Valley experienced a dry summer, only recording 50% of the long- term average rainfall. The region experienced 22 days of temperature greater than 35°C during summer, while to the south, McLaren Vale experienced 17 days greater than 35°C. This warm and dry pattern also prevailed in Clare Valley with only one significant rain event in early December. The hot spells slowed grape phenology, delaying harvest by a couple of weeks. Milder conditions in autumn provided optimal conditions for ripening grapes to their fullest potential. An outstanding vintage.
COLOUR - Radiant deep red, on rim, black core
NOSE - Maybe it's freshness, brashness but it's so ... well, it's so definitively Grange-y! Instantly, an assault of piercing V.A. (seemingly quite masterfully dialled-up!), a portal of pulsating formics ... tempered by relaxed barrel-ferment notes.
Conveying what is then revealed via waves of lingering and layered aromatics:
• First the fruit - ripe blackberries/blackcurrant reduction, laced with spices – notably fennel and anise.
• Then a sprinkle of dark chocolate, cocoa-powder ... and cola.
• Without prying, unabashed scents akin to charcoaled lamb fat, and raw wagyu carpaccio (amid caper berries) arise to authenticate shiraz DNA.
• A modicum of modesty, attempting to conceal all beneath a blackened veil of hydrocarbon shoe-polish/sootiness/coal dust and slate. • Conceded, the presence of an ever-so-subtle yet complexing higher-tone mahogany/piano-polish/ lacquer – no doubt derived from the earth, not oak.
• A trepidant tension unfolds – youthful fruitiness wrestling an inky and dense powerhouse.
PALATE
Balance and shape ... classy and poised, YET Grange.
Familial flavours of a deconstructed Black Forest Cake/trifle – chocolate, custard, bright wild raspberry; redcurrant. So many other less-obvious flavour 'distractions' - mushroom pâté/duxelles, replete with a beefy accompaniment. Notes of sarsaparilla whirled into the mix.  Also, an assortment of fresh red and black liquorice – 'straight out of the bag'.  A tactile overdose - omnipresent and even tannins. Mouthcoating - a confluence of tannin/acidity/oak/fruit – all joyously meshed together. A convex mid-palate (dare it be said, 'a strong core' !) that generously supports upfront palate grip and a continuum of delight all the way to lengthy, lingering finish. Truly 'alive', Upon sitting and with air, all transforms. A second revised tasting-note, however, can definitely wait. There will be ample opportunity over the next half-century!
PEAK DRINKING - 2028 – 2068
LAST TASTED - May 2022
AWARDS
100 points James Suckling: "A robust Grange from a lauded vintage, this wields sheer power with such compelling prowess. Uncompromising Grange. There are rich blackberries and plums on offer, together with brazen oak and abundant notes of blackcurrants, black cherries, charcoal, cola and hard brown spices. So fleshy and intense. Dark-chocolate and cocoa-powder aromas and flavors here, too. The tannins are polished and long, extruding deep into the finish and holding endlessly. Dark chocolate, black cherry, dark plum and more. Impressive. Brazen. One of the great Granges that will drink magnificently for decades to come. (8/8/22)"

99 points Lisa Perrotti-Brown (Wine Advocate): "This wine comes with high expectations—as does the vintage. The 2018 vintage across South Australia (and cheekily, we could probably extend the accolade to all of Australia) was excellent. It was warm, but without incident, and responsible for powerfully ripe, serious wines. Many producers made some of their best wines in this vintage. So here, to the 2018 Grange: there is spiced raspberry, lashings of salted licorice, red curry paste, layers of forest berries, rendered lamb fat and crushed pink peppercorns to start. In the mouth, the tannins close around the fruit with the same polish and seamlessness as the 2008, possibly the 2004? Very different vintages, but there is a textural similarity for me. This is polished and glossy and so very pretty. It contains 3% Cabernet Sauvignon this year, and 69% Barossa, 18% McLaren Vale and the balance from Clare Valley. Each of the regions brings with it its own characteristics. Barossa brings the red dirt, blood, deli meat and rust. McLaren Vale brings the plush purple fruits with a side of meat and licorice. Clare brings the polish, the opulence and the velvet texture. With their powers combined, this is an extraordinary Grange. One of the true greats, which will only get better as it ages. Drink: 2028-2058. (Jul 2022)"

99 points Peter Moser (Falstaff): "Dark ruby with an opaque core, purple reflections and subtle ochre brightening on the rim. A delicate mix of bergamot, vanilla and crème brulée on the nose with red wild berries, hints of Stollwerck chocolate and a touch of dill betrays the American wood. Powerful and complex on the palate with fine red berries, some liquorice as well as black forest cherries. Ripe, supporting tannins, but immensely fresh and lively and a long lasting finish. A harmonious combination of complexity and elegance. Drink 2030-2070. (7/26/22)

98 points Wine Spectator: "A remarkable wine, bursting with complexity and intensity but on a polished, mouthcoating and juicy frame, which makes this easy to enjoy now. Features chicory, sarsaparilla, dark chocolate and salted caramel notes that mingle with ripe black cherry, framboise and huckleberry flavors, backed by hints of almond paste and savory details of cured meat and fresh-crushed rosemary that linger on the epic finish. Drink now through 2045. 426 cases imported. (2022)"

98 points Josh Raynolds (Vinous): "Inky, bright-rimmed violet. A kaleidoscopic, penetrating bouquet evokes ripe black and blue fruit preserves, espresso, cola, incense, coconut and Moroccan spices, along with a smoky mineral topnote. Shows superb clarity and mineral lift to the sweet, deeply concentrated black currant, bitter cherry, dark chocolate, fruitcake and mocha flavors, which are sharpened by a spicy element. A vein of juicy acidity adds support and drives a wonderfully long, smoky finish that leaves a suave floral note behind. Drink: 2030-2045. (Sep 2022)"
Want to save even more?
Become a TWA Online member and save even more off our already low prices.
Learn more!