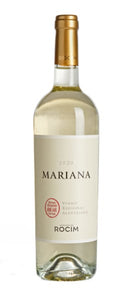 PROFILE
Located in the Lower Alentejo region in the southern half of Portugal, between Vidigueira and Cuba, lies the estate of Herdade do Rocim. Catarina Vieira has been in charge of the development of the estate and she believes that Alentejo has the unique conditions required to produce world-class wines. Joining her as General Manager of the estate is Pedro Ribiero. He contributes to the winemaking decisions, as well as running the sales and business affairs of the estate. Since purchasing the estate, Caterina and Pedro have invested greatly in the land by completely regenerating the vineyards and building a new state of the art winery. They believe that Rocim has great potential for producing high quality wines with worldwide recognition and have created a project that gives value not only to Alentejo, but to Portugal as a whole.
SPECIFICATIONS
Wine: Mariana Branco Varietals: Antao Vaz, Arinto, and
Alvarinho
Appellation: Vinho Regional Alentejano
Location: Vidigueira, Alentejo
Soil: Clay and sand
Harvest: Manual, in boxes of 12 kg
Agricultural Method: Organic, vegan
Vinification: After cold pellicular maceration of the destemmed
grapes, fermentation takes place in temperature-controlled stainless steel vat for 15 days. Aged for eight months in steel tank.
Tasting Note: This blend brings together Antao Vaz for body, Arinto for acidity, and Alvarinho for aromatics. Apricots, honey and spice, with floral undertones, nice acidity, and a bit of almond. This medium-weight white is versatile: pair with paella, cream based pasta, or vegetable quiche.
Want to save even more?
Become a TWA Online member and save even more off our already low prices.
Learn more!