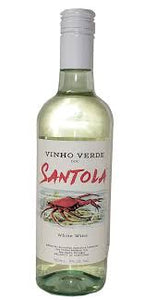 No, the wine isn't made from a particularly crabby grape varietal. Vinho Verde is made from a happy blend of any or all of the following: Alvarenho, Arinto, Avesso, Azal, Batoca, Loureiro, Pederña and Trajadura. It's a zesty, often slightly effervescent dry white wine that comes from a DOC viticultural area in coastal northwest Portugal. Fresh and tart on the tongue, the wine is meant to be drunk young. Hence the "verde" or green. (It would be a bonus if that "verde" meant sustainable practices as well.)
It's a great party wine. It's inexpensive – the New York Times has christened it "cheap-and-cheerful" so you can stock up. It's low in alcohol – registering a mere 9% ABV, so you can drink up. And it's adequately complex and balanced so you don't have to fess up to buying (or bringing) a bottle of wine that cost less than $10.
Want to save even more?
Become a TWA Online member and save even more off our already low prices.
Learn more!