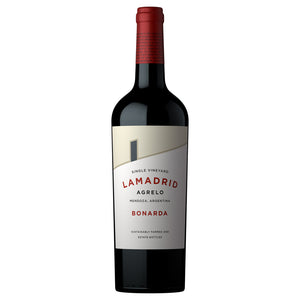 Tom's notes:
Argentina second most planted varietal.  We had the tasting for Lamadrid on 8-16-22.  I remembered this winery fondly from my sales rep days in Colorado.  I always thought it outperformed in terms of QPR (Quality Price Ratio).  The Bonarda was the hit of the night, as I am typing this on 8-21-22 we are out of stock and I need to order more.
This wine is going to grab you up front with its bright red fruit notes (think blackberry and plum), lavender, and hang with me here the smell of your garden bushes in the late spring.  The body is slightly velvety.  
- Producer Tech Info
Description: We strive for an Agrelo terroir-driven Bonarda that is easy-todrink and fun, with color and concentration that over-delivers at its price point.
Label Notes: Lamadrid is the name of the family of the owner and founder, Guillermo García Lamadrid. In each bottle of Lamadrid we open a door and discover a world of unique experiences and sensations.
Case Production: 1,500
Winemaker: Héctor Durigutti Winery:
Lamadrid Vineyard: Estate single vineyard, Agrelo, Mendoza
Varietal: 100% Bonarda
Average Age of Vines: 37 years
Average Vineyard Altitude: 989 meters
Density: 3,500 plants per hectare
Production: 1.5 kg per plant
Sustainably Farmed: 100%
Harvest Method: By hand Sorting: Double manual selection
Fermentation and Maceration: Cold maceration at 8C for 5 days; alcoholic fermentation with four daily pump-overs for 15 days at 25-27C with indigenous yeasts
Malolactic Fermentation: 100% spontaneous in oak
Winemaking: No stabilization, no filtration, no clarification
Aging: 9 months in new French oak innerstaves
Alcohol: 13.5
Residual Sugar: 0.18%
Acidity: pH of 3.75; TA of 5.6 g/L
Want to save even more?
Become a TWA Online member and save even more off our already low prices.
Learn more!