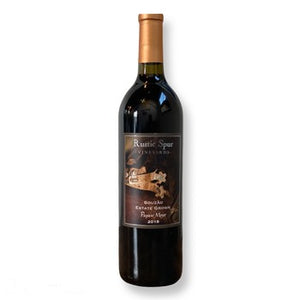 Very few wineries around the world are using the traditional port wine grape Souzao to produce a single varietal dry red wine.  This grape variety hails from the region of Portugal and is considered as one of the most sought after wines in that particular region.  While originating in the regions of Minho, this red wine grape variety is starting to become popular in Texas.  This is a well balanced medium-bodied wine with complex layers and a long finish.  As one of the rare "Tenturier" or black grape varietals, the black skin and red flesh of the Souzao grape produce a deep intense color. Tart blueberry and blackberry, sweet pipe tobacco, white pepper, spice, dark chocolate and earthy rhubarb are some of the flavors that might be found.
Wine Specs
VINEYARD DESIGNATION - Rustic Spur Vineyards
AGING - 3 1/2 years in American Neutral Oak
BOTTLING DATE - 3/31/2022
Want to save even more?
Become a TWA Online member and save even more off our already low prices.
Learn more!