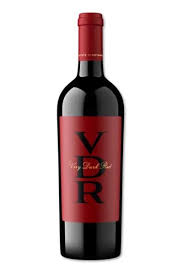 Very Dark Red—the name speaks for itself. Effortlessly bold, it captivates the senses with an inherent confidence that draws you in. Slightly mysterious, yet unexpectedly approachable, this robust red blend reveals new layers of depth and personality with each lingering sip.
98POINTS DOUBLE GOLD 2020 San Francisco International Wine Competition
92POINTS The Tasting Panel November/December 2020 Issue
The VDR Difference
Uninterested in the status quo, we daringly unite the collective strengths of two unlikely allies to create one profound Very Dark Red blend.
While traditionalists may question the idea of blending two powerhouse varietals like Petite Sirah and Petit Verdot, we embraced the possibilities that such a scandalous marriage might unveil—and the risk paid off. Bold and uncompromising, VDR effortlessly combines the expressive flavors of Petite Sirah with the supple tannic structure of Petit Verdot, revealing an intensely hued, full-bodied wine that is unlike any other.
Want to save even more?
Become a TWA Online member and save even more off our already low prices.
Learn more!