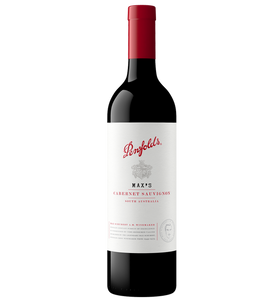 Penfolds Max's Cabernet Sauvignon is a tribute to former Chief Winemaker Max Schubert 1948-1975, a legend in Penfolds history. Max's constant pursuit of excellence paved the way for those who followed in his footsteps and also allowed the status and heritage of Penfolds to grow. A more approachable Penfolds style at release – ideally shelf to glass, save the cellar.
VINTAGE CONDITIONS
2018 VINTAGE
Above-average winter and spring rainfall offered the vines across South Australia healthy soil moisture profiles for the growing season. Cool days and cooler nights slowed vine growth in early spring with temperatures warming in October. Late flowering and veraison delayed harvest by a few weeks. Weather conditions during ripening were generally dry with conditions favouring fully ripened grapes with well-developed colours and flavours.
GRAPE VARIETY

100% Cabernet Sauvignon
WINE ANALYSIS

Alc/Vol: 14.5%
MATURATION

12 Months In French And American Oak, 10% New Oak (French)
Color: Dark red with crimson hues.
Nose: Enticing aromatics, with exotic fruits of the forest leaping from the glass. Raspberry, black cherry, olive tapenade and oolong tea are framed by a subtle char toast character.
Hints of sea spray and a distinct Campari note linger.
Palate: Taut in texture, fine tannin with a savoury profile. Cranberry represents the red fruit spectrum, with lingering flavours of yellow plum, bay leaf and sage. Root vegetable earthiness is evident on the finish. Structurally framed by beautifully integrated French and American oak, present but rarely mentioned.
PENFOLDS MAX'S
Our Max's tier was introduced in 2016 and pays tribute to our first Chief Winemaker Max Schubert, who dared to revolutionise Australian winemaking. Each wine is polished and charming in character, expressing varietal cues, alluring fruit and structure. They are contemporary and vibrant upon release. They are immediately accessible but not without the assurance of more to come.
Want to save even more?
Become a TWA Online member and save even more off our already low prices.
Learn more!